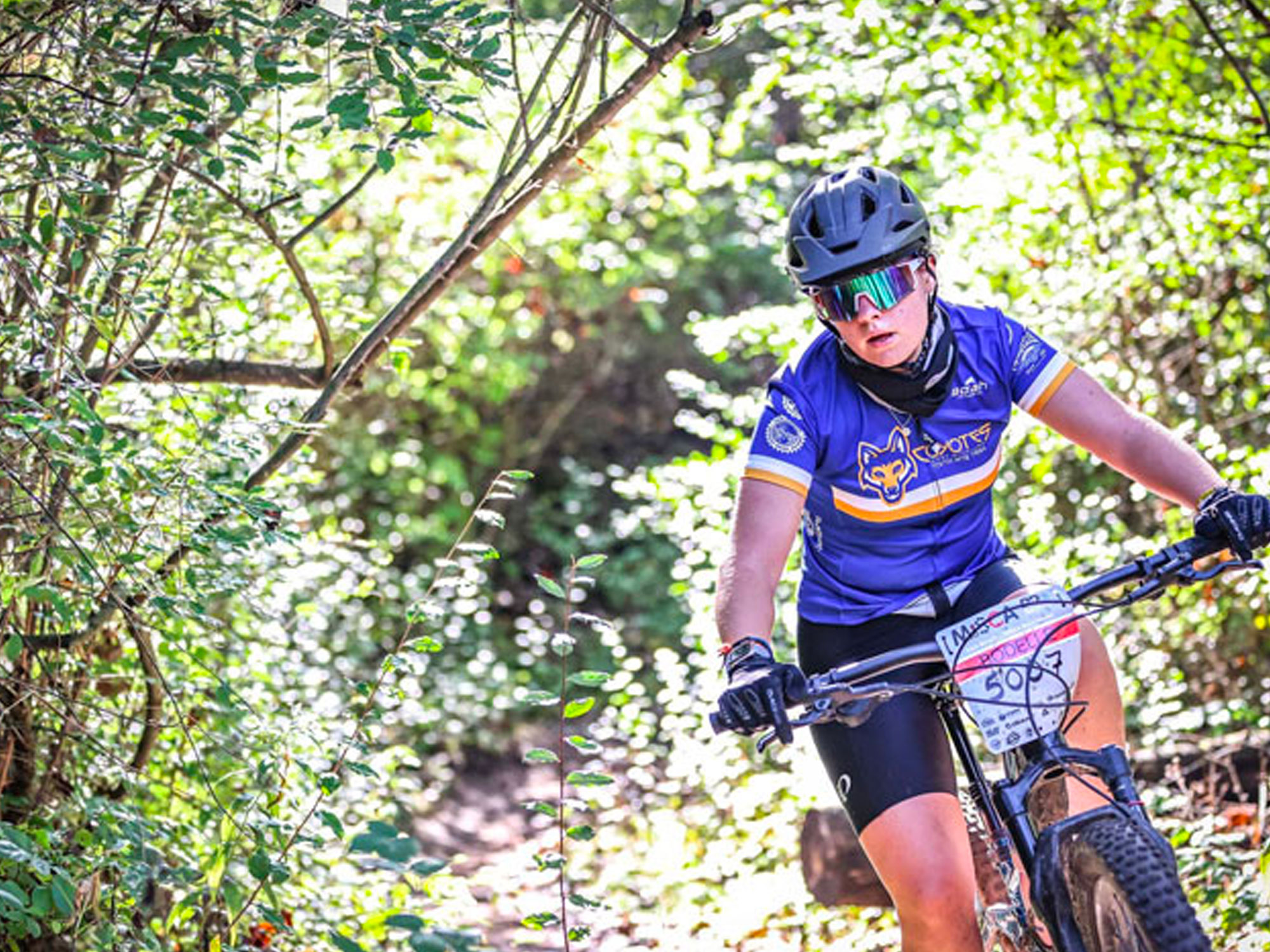 Fraser Bicycle | MiSCA Bloomer Park
Race #3 of the D&D Bicycles MiSCA Race Series
BLOOMER PARK | ROCHESTER HILLS, MI
$20-$30
Bloomer Park is home to Michigan's only outdoor velodrome. Typically one of our more technical courses of the series, this will be a true test for our student riders! Bloomer's trails have a great mix of fast and flowy combined with technical features and tough climbs to keep riders on their toes. Modern restrooms, playgrounds, and pavilion space will be available.
CAMPING: While individual campsites are not located within Bloomer Park, the closest nearby campground is Addison Oaks, which is 12 miles north of the park. Reserve online at https://www.oakgov.com/parks/parksandtrails/Addison-Oaks/Pages/Camping-Fees.aspx
These are student-only races for Elementary, Middle, and High School-ages. No team, no problem – students can participate as individuals. To be eligible to race, students must be registered in MiSCA's online system. Additionally, the rider will register for the races they plan to participate in.
Please apply for financial assistance if price is a concern miscabike.org/scholarship
Registration closes the Monday before race weekend – September 12 at 11:59 pm.
New for 2022, elementary riders will race on Saturday afternoons and older riders will race on Sundays (start times to be announced).
Get driving directions to Bloomer Park: goo.gl/maps/xt6G5t79sm82
Facebook Event: facebook.com/events/329381792167731
There is a $5 fee to enter Bloomer Park. Please bring cash (exact change) to expedite the process at the gate.
COURSE DETAILS
ADVANCED COURSE (3.75 miles)
VARSITY: 4 Laps (15 miles)
JUNIOR VARSITY: 3 Laps (11.3 miles)
ADVANCED MIDDLE SCHOOL: 3 Laps (11.3 miles)
BEGINNER COURSE (3 miles)
NOVICE: 3 Laps (9 miles)
ADVANCED ELEMENTARY: 3 Laps (9 miles)
UPPER ELEMENTARY: 2 Laps (6 miles)
LOWER ELEMENTARY: 1 Lap (3 miles)
BALANCE BIKE COURSE (.125 miles around the infield)
BALANCE BIKE: 2 Laps (.25 miles)
---
RIDERS MUST REPORT TO STAGING AT THE ASSIGNED TIMES BELOW
Full staging list by category [PDF]
Saturday: Elementary Races
| | | |
| --- | --- | --- |
| Wave 1 Categories | Staging | Awards |
| Upper Elementary Male | 1:45 PM | 5:30 PM |
| Upper Elementary Female | 2:00 PM | 5:30 PM |
| | | |
| --- | --- | --- |
| Wave 2 Categories | Staging | Awards |
| Lower Elementary Male | 2:45 PM | 5:30 PM |
| Lower Elementary Female | 3:00 PM | 5:30 PM |
| | | |
| --- | --- | --- |
| Wave 3 Categories | Staging | Awards |
| Advanced Elementary Male | 3:45 PM | 5:30 PM |
| Advanced Elementary Female | 3:45 PM | 5:30 PM |
| | | |
| --- | --- | --- |
| Balance Bike Race | Staging | Awards |
| Balance Bike Race (no pedals) | 5:10 PM | 5:30 PM |
No Online registration – register on-site by 5:00pm, Staging at 5:10pm, Race at 5:15pm. FREE
Sunday: High School and Middle School Races
| | | |
| --- | --- | --- |
| Wave 4 Categories | Staging | Awards |
| Varsity Male | 8:45 AM | 12:15 PM |
| Varsity Female | 8:45 AM | 12:15 PM |
| Advanced Middle School Male | 8:45 AM | 12:15 PM |
| Advanced Middle School Female | 8:45 AM | 12:15 PM |
| | | |
| --- | --- | --- |
| Wave 5 Categories | Staging | Awards |
| Junior Varsity 9-10th Grade Male | 10:15 AM | 12:15 PM |
| Junior Varsity 11-12th Grade Male | 10:15 AM | 12:15 PM |
| Junior Varsity Female | 10:15 AM | 12:15 PM |
| | | |
| --- | --- | --- |
| Wave 6 Categories | Staging | Awards |
| Novice 10-12th Grade Male | 11:45 AM | 2:30 PM |
| Novice 9th Grade Male | 11:45 AM | 2:30 PM |
| | | |
| --- | --- | --- |
| Wave 7 Categories | Staging | Awards |
| Novice 9-12th Grade Female | 12:45 PM | 2:30 PM |
| Novice 6-8th Grade Female | 12:45 PM | 2:30 PM |
| | | |
| --- | --- | --- |
| Wave 8 Categories | Staging | Awards |
| Novice 8th Grade Male | 1:45 PM | 3:30 PM |
| Novice 7th Grade Male | 1:45 PM | 3:30 PM |
| Novice 6th Grade Male | 1:45 PM | 3:30 PM |
---
Trail Maintained by Clinton River Area Mountain Bike Association (CRAMBA) cramba.org