Cycletherapy | MiSCA Addison Oaks MTB Race
September 12 @ 8:00 am

-

6:00 pm

$15 – $25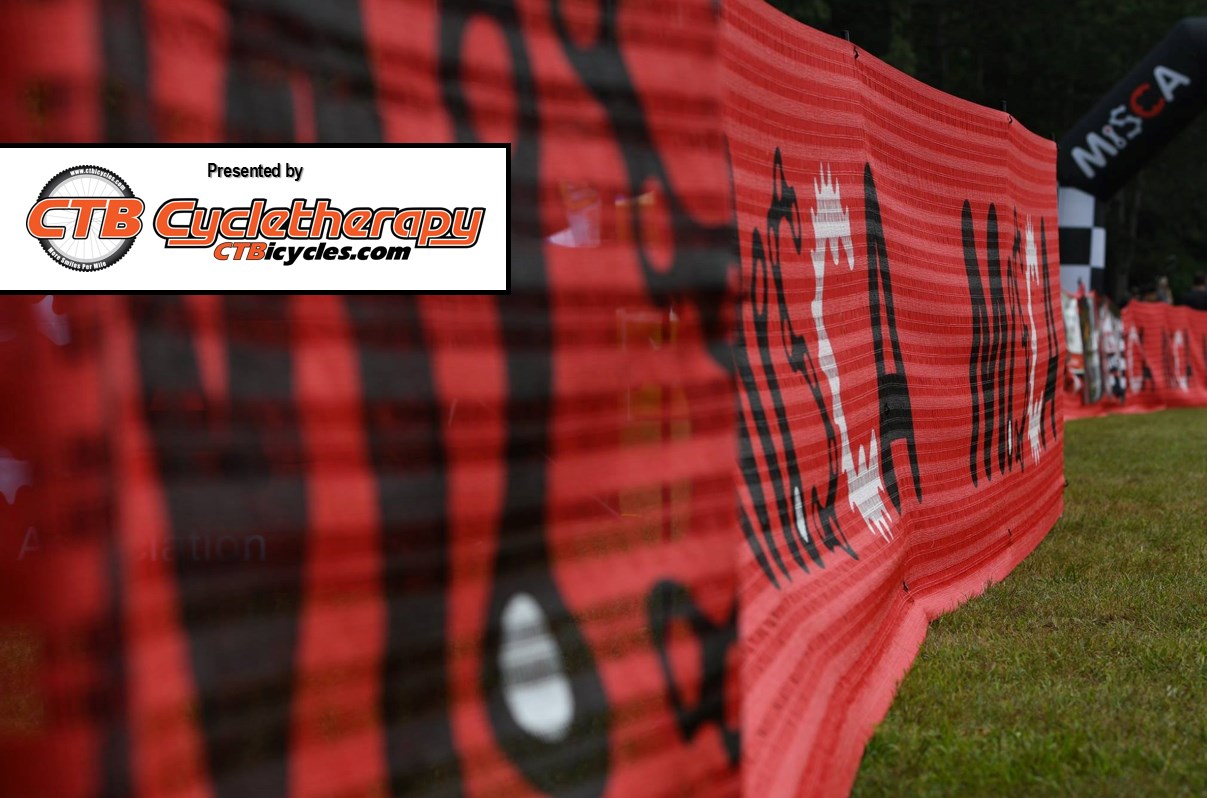 READ THE RACE #2 MISCA UPDATE NEWSLETTER FOR DETAILED/UPDATED INFORMATION
Presented by:


Race #2 of the D&D Bicycles 2021 MiSCA Race Series.
ADDISON OAKS COUNTY PARK | LEONARD, MI
Addison Oaks returns for 2021! Accommodating park personnel, meticulously maintained flowy and fun trails, and great facilities make this trail system a rider favorite. This favorite venue is a gem and we are glad to be back!
CAMPING: Camping available at the park, call to reserve. Call 248-858-1400 Monday through Friday 8 a.m.-3:30 p.m. during the off season and seven days a week from 8 a.m.-9 p.m. during in season. https://www.oakgov.com/parks/parksandtrails/Addison-Oaks/Pages/Camping-Fees.aspx
These are student-only races for Elementary, Middle, and High School-ages. No team, no problem – students can participate as individuals.To be eligible to race, students must be registered in Sports SignUp Play. Additionally, the rider will register for the races they plan to participate in.
Addison Oaks MiSCA Course

Downloadable course map: [PDF]
ADVANCED COURSE (6 miles) [GPX]
VARSITY: 3 Laps (18 miles)
JUNIOR VARSITY: 2 Laps (12 miles)
ADVANCED MIDDLE SCHOOL: 2 Laps (12 miles)
BEGINNER COURSE (4.5 miles) [GPX]
NOVICE: 2 Laps (9 miles)
ADVANCED ELEMENTARY: 2 Laps (9 miles)
UPPER ELEMENTARY: 1 Lap (4.5 miles)
LOWER ELEMENTARY: 1 Lap (4.5 miles)
---
RIDERS MUST REPORT TO STAGING AT THE ASSIGNED TIMES BELOW
Download the full staging list by Category
| | | |
| --- | --- | --- |
| Wave 1 Categories | Staging | Awards |
| Varsity Male | 8:45 AM | 12:15 PM |
| Varsity Female | 8:45 AM | 12:15 PM |
| Advanced Middle School Male | 8:45 AM | 12:15 PM |
| Advanced Middle School Female | 8:45 AM | 12:15 PM |
| | | |
| --- | --- | --- |
| Wave 2 Categories | Staging | Awards |
| Junior Varsity 9-10th Grade Male | 10:15 AM | 12:15 PM |
| Junior Varsity 11-12th Grade Male | 10:15 AM | 12:15 PM |
| Junior Varsity Female | 10:15 AM | 12:15 PM |
| | | |
| --- | --- | --- |
| Wave 3 Categories | Staging | Awards |
| Novice 10-12th Grade Male | 11:45 AM | 3:15 PM |
| Novice 9th Grade Male | 11:45 AM | 3:15 PM |
| Novice 8th Grade Male | 11:45 AM | 3:15 PM |
| Novice 9-12th Grade Female | 11:45 AM | 3:15 PM |
| | | |
| --- | --- | --- |
| Wave 4 Categories | Staging | Awards |
| Novice 7th Grade Male | 1:00 PM | 3:15 PM |
| Novice 6th Grade Male | 1:00 PM | 3:15 PM |
| Novice 6-8th Grade Female | 1:00 PM | 3:15 PM |
| Advanced Elementary Male | 1:00 PM | 3:15 PM |
| Advanced Elementary Female | 1:00 PM | 3:15 PM |
| | | |
| --- | --- | --- |
| Wave 5 Categories | Staging | Awards |
| Upper Elementary Male | 2:45 PM | 5:15 PM |
| Upper Elementary Female | 2:45 PM | 5:15 PM |
| | | |
| --- | --- | --- |
| Wave 6 Categories | Staging | Awards |
| Lower Elementary Male | 3:45 PM | 5:15 PM |
| Lower Elementary Female | 3:45 PM | 5:15 PM |
---
Trail Maintained by Clinton River Area Mountain Biking Association (CRAMBA) cramba.org

---